Unanswered Station Questions
& Confirmations Needed
Below is a table of stations that may or may not be still standing. If you happen though any of these places and can get a definitive answer about them, your help will be greatly appreciated. This is the "rumor mill" section of the page where we hope to turn up some hidden gems! The info may be sketchy, and many are probably gone, but this is all I have on these stations. There are also a few other detailed questions below the table. Info below provided by many people, special thanks to Mark Camp for many of these from his past articles in the Railroad Station Historical Society Bulletin. Send updates/corrections/revelations to danvwest@msn.com.
ONGOING MYSTERIES
Here are some photos of stations that were identified as being in Ohio, but no specific location was given.
Unknown N&W, CP&V or C&MV Station #1 that was possibly located in SW or South Central Ohio.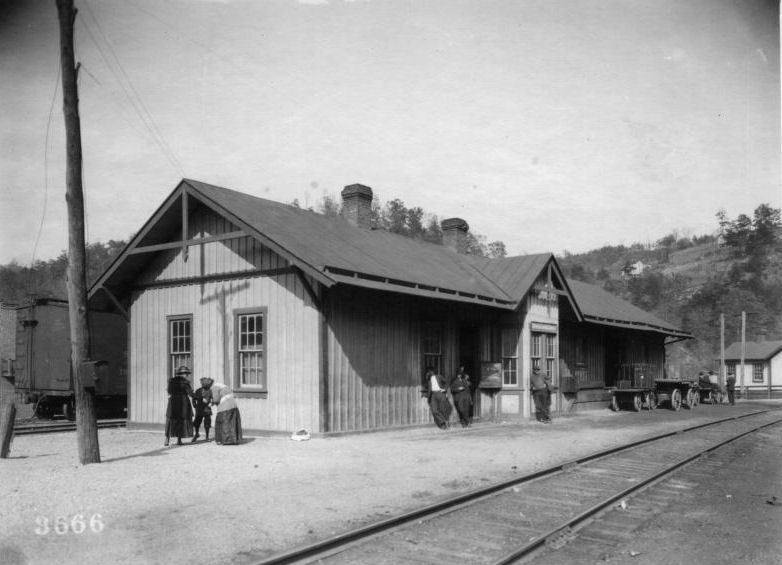 Unknown N&W, CP&V or C&MV Station #2 that was possibly located in SW or South Central Ohio.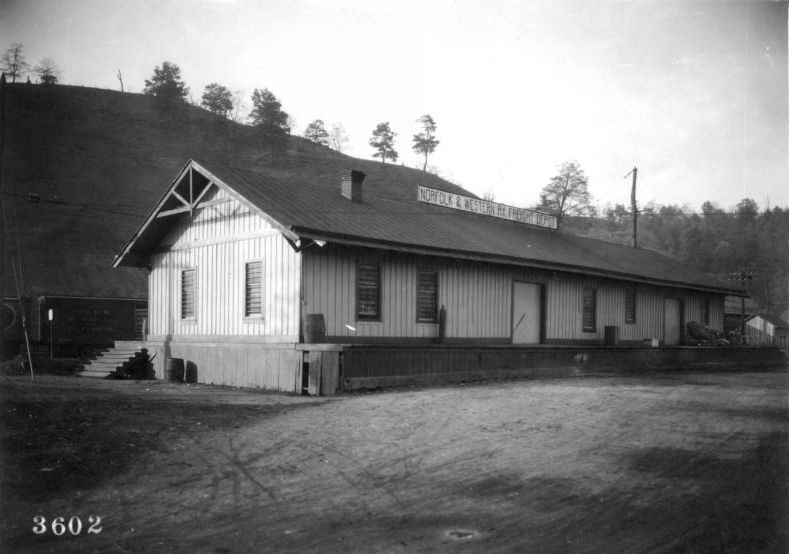 Unknown B&O frieght station #3 below - Was originally identified as being in Athens, but that is unlikely. Some thought perhaps Chillicothe.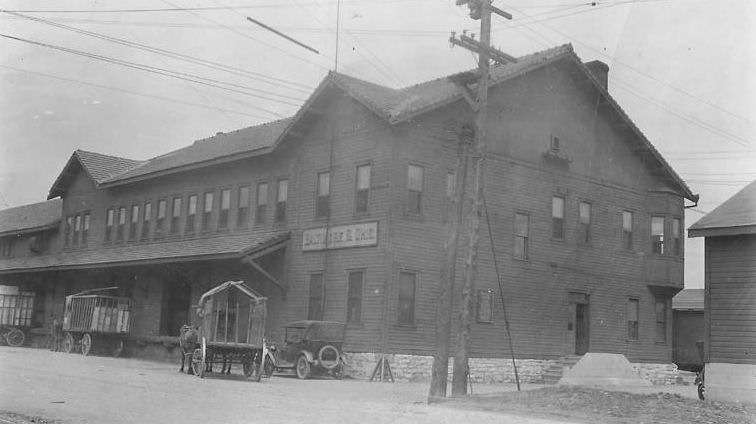 This photo below was identified as being near Dayton. Can anyone help confirm whether it was a station and where it was located?
The photo below is of a depot or Adams Express office possibly near or in Alliance.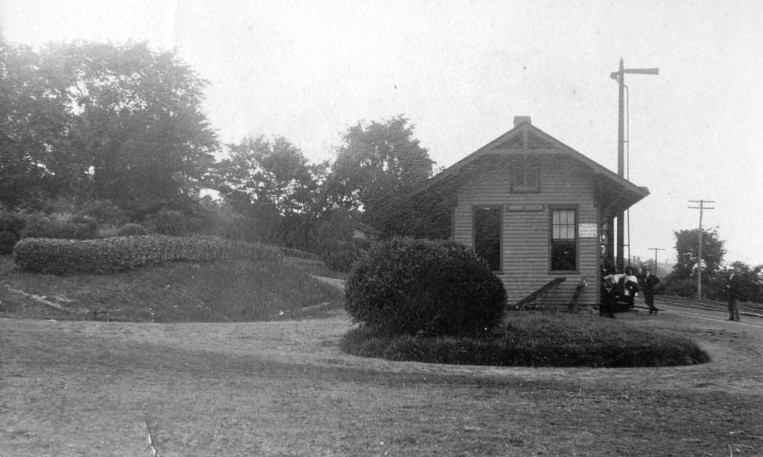 Below is an unknown station from Ohio. No other clues.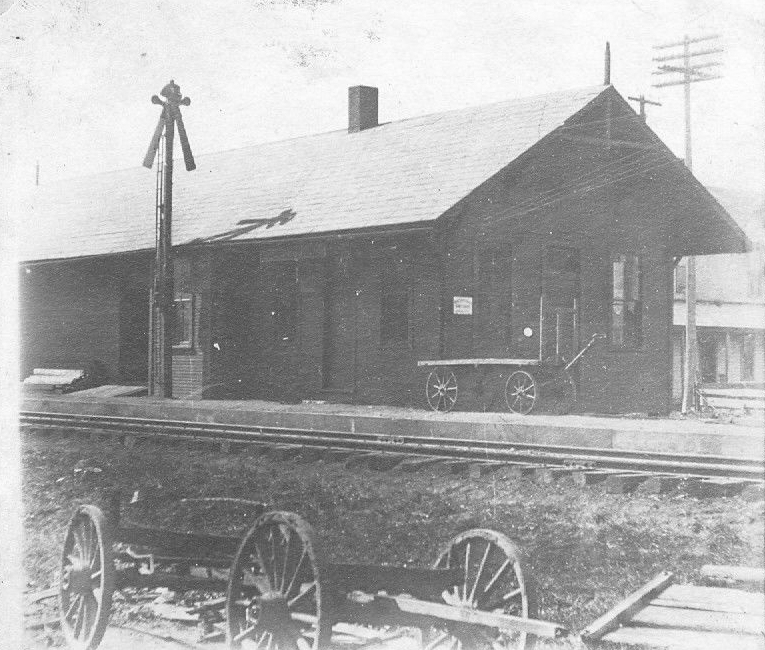 An unknown depot below, possibly of Zanesville & Western origin.
HERE ARE SOME MORE...
Town/Station
County
Questions/Clues
Berwick
Seneca
Clues: Moved to farm?

Update: A local reported to me that this station burned down but the baggage shed was behind a house near the old RR bed. I looked for the baggage shed but saw no compelling buildings. -- Dan West (1/2/00)

Davis Station
Scioto
Clues: Moved to site on US 23? Here is an old photo of the station.
DeCliff
Marion
Clues: Moved somewhere?
Glenmore
Van Wert
Clues: Erie station, moved to farm on Willshire-Ohio City Rd.(County Rd. 50)? Update: Ben Reigle writes: "I grew up just north of Glenmore and my grandmother lives in Glenmore. The depot was purchased by a family and moved by hay wagon across my grandmother's farm and two others to the farm where it was moved on Willshire-Ohio City Rd.(County Rd. 50). So far as I know they pulled it back in their woods and have either disassembled it or just left it to the elements."
Hopedale
Harrison
Clues: Supposedly moved north of town late 50's early 60's, believed to be used as farm building. Here is an old photo of the station.
Huntsville
Logan
Clues: Moved, converted to house?
Mechanicstown
Carroll
Clues: This station closed in 1954. A source says he heard an engineer out of Minerva named Bob Brothers bought it, disassembled it and moved it to Lake Milton, Portage County, Ohio for a summer cottage. The building along the tracks now in Mechanicstown is not the station, but rather the old operator's shanty from Piney Fork.
Murray City
Hocking
Clues: The C&O station in town has been restored, but there may have been an older Hocking Valley station, or a possibly a freight house, that was moved to a place called "Buckeye Trail Riders" Campgrounds.
New Dover
Union
Clues: Moved to farm somewhere approx. 3mi from orig. location.
New Reigel
Seneca
Clues: Moved, T&OC.

Update: A local told me where the station was moved to (the old sawmill) but thought that it may have been torn down. I went to the site and found no station. -- Dan West (1/2/00)

New Straitsville
Perry
Clues: No info, just reportedly exists somewhere. Here is what I believe to be an old photo of the station.
Radcliff
Vinton
Clues: Moved to site North of town on SR160?
Springdale?
Fulton
Clues: There is what appears to be a small station at the corner of SR 529 and SR 61 north of Fulton (in Morrow Co.). It is not far from the location of the Fulton station and the old T&OC line. This small blue building has a station sign on it that reads "Springdale." The current owner of the house did not know the history of the building. It appears to have been set up on stones and is a different architectural style than the house. On the back side of the building is an area that had not been painted and was still green. The only Springdale I found on Ohio maps was near Cincinnati, many miles away. However, there is a "Springdale" cemetery somewhere in Lincoln Township (this building is in Lincoln Twp.).

Does anyone know if a stop on the T&OC near here could have been called Springdale at one time? I have been told that it was probably a coaling shack which it very well might be. Anyone know for certain about this structure? Here is a photo of the building in question.

St. James
Morrow
Clues: Big 4 depot, is/was part of feed mill? Here is an old photo of the station.
Storms
Ross
Clues: Moved and converted into two storage sheds? DT&I
Summit Hill
Ross
Clues: Across from old store, supposedly a heavily altered residence.
Thurston
Fairfield
Clues: Freight depot moved to lot west of tracks?
Toledo
(Manhattan)
Lucas
Clues: W&LE Manhattan station, now residence?
Vickery
Sandusky
Clues: Moved to former/current 4-H club (Rough Riders) grounds? I have searched for this a couple times but have had no luck turning up the building or anyone who knows what happened to it.
Wayne
(Prairie Depot)
Wood
Clues: T&OC, possibly part of a residence and heavily modified. Here is an old photo of the stations at Prairie Depot.
Wellington
Lorain
Clues: While traveling through Southern Medina County on River Corners Rd. I found the Wellington (Lorain Co.) LS&MS? station on a back road at a private residence but it was being dismantled by Amish workers and loaded onto a truck. One of the workers informed me that the depot was being moved to Michigan (near Detroit). No other info was available. Anyone know more about this station??
Williston
Ottawa
Clues: Moved to "Howard Farms" area? Howard Farms is north of Bono in the Reno Beach area in Lucas Co. north of SR 2.
Zaleski
Vinton
Clues: None.

Update: I was told this was still around but a visit in 1999 turned up no station and a few locals who claimed it was demolished in the 1960s. Has it been moved? -D.W.
MYSTERIES SOLVED!
Town/Station
County
Questions/Clues/Answers
Akron
Summit


Does anyone know which station this was?

MYSTERY SOLVED: Mark Camp pointed out that this is actually the CB&Q station from Akron, Colorado.
Amsden
Seneca
Clues: The LE&W station was moved and was turned into a house.

MYSTERY SOLVED: Bob Albert of the NKPT&HS reports that the Amsden depot was indeed made into a residence and is still being used as such in 2001. See the Seneca County page for more info.

Blue Creek
Unknown


This station was identified as being in Ohio. There is a Blue Creek in Adams County, but I do not think a RR ran through there so I am doubtful that this photo is of an Ohio station.

Mystery Solved: This is likely the Blue Creek, WA station so the photo was originally misidentified. Thanks to Terry Hundley.
Coal Grove
Lawrence
Clues: Moved but near track (near bridge to Ashland)

MYSTERY SOLVED: Mark Camp reports that this station is gone.

Findlay
Hancock
Clues: The two big stations are gone but the CH&D station may have been moved and converted to a residence.

MYSTERY SOLVED: Two stations still existed until recently, see the Hancock Co. page for details.

Fort Jennings
Putnam
Clues: Cloverleaf (NKP) station. Residence near Cloverdale? Is this the same as the Cloverdale NKP station already listed or are there two in the area?

MYSTERY SOLVED: Yes, this is the same station that is at a residence near Cloverdale. It is located on Road 21L.

Kemp
Allen
Clues: Moved, converted to apartment?

MYSTERY SOLVED: Dan Meckstroth tracked this one down. It sits about 150 feet north of the tracks on the west side of Kemp Road and is used as a two-unit apartment. The building is in great shape. The roof was raised and two dormers added for a second story. The building faces north and south, having been moved from it original east west facing when in use.

Kirkwood
Shelby
Clues: Moved to town? Visible from I-75? Mark Camp reports (2/18/99) that this station has been torn down or moved again from its last known site.

MYSTERY SOLVED: Scott Trostel writes: This station was moved to a farm south of the Slater crossing and stood until the early 1980s, when it just fell apart from neglect. It had been built in 1893 for the Ohio Southern Railroad, a photo of it appears page 54 of my DT&I book.

Leipsic
Putnam
Clues: Is/was a church on Baltimore St.? Altered and sided.

MYSTERY SOLVED: Mark Camp reports on 11/06/00 that the station is located on Belmore & Center streets. It has been modified quite a bit and is not easy to spot.

Lemert
Crawford
Clues: T&OC, now part of grain company? I have briefly looked for this on one occasion and did not find it or the grain company. Did not have the opportunity to talk to any locals. --D.W.

MYSTERY SOLVED: A local claims that both the station and the grain company it may have been moved to are now history.

Middlepoint
VanWert
Clues: Wooden PRR combination station was/is auto parts store? Daniel Meckstroth reports finding no such building on a August 1999 trip but the exact location was originally not known or posted to this page. Anyone have an address or know for sure?

MYSTERY SOLVED: Daniel Meckstroth talked with some life-long residents. They verified the fact that the station was torn down in the 60s or 70s and showed him the foundation north of the tracks where the station sat. The interurban station on the south side of the village was where the car parts or used car business was once located. They said the interurban lasted until 1932, but the building still remains.

Milledgeville
Fayette
Clues: Moved away from tracks?

MYSTERY SOLVED: The station is now a residence after having been moved across the street and to the north. See the Fayette County page for the exact location.
New Lexington
Perry
Clues: Near SR 13 at junction of CR line and shortline that ran to Zanesville??

MYSTERY SOLVED: Tom Swisher reports on 1/03/98 that the wood frame building at the junction is the old section house, which is still in use by Conrail. Nearby is a small building built a few years ago by Conrail for train crews to use; this building replaced the old depot which was torn down in the late 1990s. Additionally, Matt Fisher writes: That Depot was razed in March of 1998 after the City of New Lexington did not want it. The new building was built in the fall of 97 for M of W. The old REA building still stands and is used for storage of crossing signal equipment.

New Winchester
Crawford
Clues: Moved to a distant site, possibly a residence?

MYSTERY SOLVED: See Crawford Co. page.

Oakland
Butler
Clues: West of Monroe St across from current/former Manchester Machine? PRR Where is/was this town?

MYSTERY SOLVED: See Butler Co. info.

Portage
Wood
Clues: A residence in town?

MYSTERY SOLVED: Mark Camp reports on 11/05/00 that the station was moved a second time and now sits at the end of 2nd Street, north of the village park.

Slater
Auglaize
Clues: DT&I moved to farm S. of old diamond.

MYSTERY SOLVED: Scott Trostel writes - That station was torn down in 1993 and the wood was burned. It was given to the agent upon his retirement in 1954 and moved to his yard a few doors west of the railroad.

Venedocia
Van Wert
Clues: Now part of feed mill?

MYSTERY SOLVED: Daniel Meckstroth talked to an old time railroader in the area who said the building next to the tracks was owned and used by the grain elevator, and was definitely not the railroad station. He said the Venedocia station was torn down many years ago.

West Jefferson
Madison

Clues:

G. S. Jones of Columbus writes: I was taking a train from Columbus to Moraine the other day and noticed that there is a small building that looks like a station sitting just south of our elevation (at the base of it) and across from a lumber yard or mill of some type in West Jefferson in Madison County. It's buried pretty well behind the business district off U.S. 40 and there seems to be no former right of leading to it. It may have been moved at some point as there is a fill coming off the current right of way that drops down a good grade to an old factory north of the tracks. I asked some other crewmen, and old timers if they knew any thing of it and they did not.



I believe this is a photo of the building in question showing its location - Dan West

MYSTERY SOLVED: Architechtural Historian Donald Burden solved this one!

When the PRR elevated the grade sometime between 1910 and 1926, the original Little Miami RR stations on the east side of Walnut were replaced with a new passenger depot on the west side of Walnut and a small freight depot (now gone) up at track level. Essentially the RR depots and the John Murray Lumber Compnay swapped sides of the street during this period. After passenger service ended, the passenger station served as an express office. Although it is at an odd angle to the tracks, according to old maps, this is in fact the second generation PRR station station and it is still in its original location and orientation.



Zanesfield
Logan
Clues: A local reports that the T&OC station was moved to the local fish and game club but then burned down a few years ago. However, another depotfan claims that there is a possible depot-looking structure at the club now. Unknown if it is actually a depot and if so where it came from.

MYSTERY SOLVED: Dick Wilkins writes - While in Zanesfield this past month, I determined to find out the disposition of the depot at the present. The Depot had been moved to the Trout Club be used as a Club House, as it was, until 1960, when it was completely destroyed by fire. They did save the two Brass signs (Zanesfield), one was placed on a NEW structure which was built a short distance from where the original had stood. The other Brass sign (Zanesfield) was placed on the Zanesfield Fire Station & Town Hall where it is now.